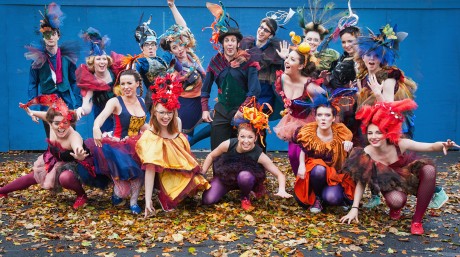 Macnas' Performance Fund is directly dedicated to our Young Ensemble Programme.
Macnas, for the past five years, has successfully been running a Young Ensemble (YE) programme, teaching young adults between the age of 15 – 22 years, various street theatre and performance techniques.
Under the tutelage of Macnas Performance Director, Miquel Barcelo, our YE members are exposed to devising methods and performance technologies, in order to advance their creative practice. The programme also provides our young performers with professional, innovative training and lots of hand on experience, through the creation of their own original productions.
In addition and as part of this programme, YE members have the opportunity to perform in our annual Macnas parade, the highlight of the Galway calander.
Many of our YE members have gone on to study, train and work in the arts and creative industries while some continue to perform with us on a part-time basis.
Our Young Emsemble programme runs from September to May annually. It is integral to the development of young talent within the creative industry and while the programme is free for the students, it's a costly affair for Macnas to run. We would ask you to consider making an investment in Macnas' future as well as the our young local talent by making a donation today.
Donate an amount of your choice...