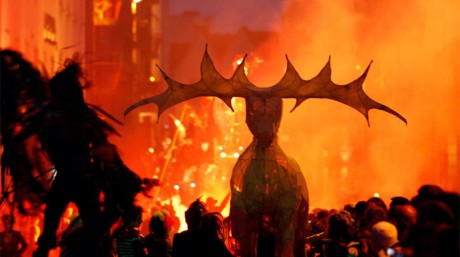 By supporting Macnas you are investing in a world-class programme of spectacle shows.
Macnas collaborate with like-minded, imaginative organisations to bring original and extraordinary ideas to life. Macnas prefers to actively seek out support from interesting brands and businesses in tune with our vision.
30 years of Macnas has seen the company go from strength to strength.
Our collaborations have seen us float a giant baby over Times Square in NYC for the millennium, partner with U2 on the Zooropa tour, walk a 15ft tall boy about Womad Austraila , create a spectacular finale at Wilderness Festival UK, and premiere a new show at SXSW Austin,Texas 2016.
Opportunities such as advertising, publicity, staff engagement, hospitality and more are available to Sponsors of Macnas.
Your support enhances Macnas' ability to deliver on its mission: creating spectacular stories, designing epic creations and celebrating vast engagement with the audience at the heart of the art in a Macnas performance.
To create our theatrical spectacle that touches the heart of audiences and inspires us to dream beyond limitations.
There are two ways you can support Macnas, by becoming a Sponsor or an Individual supporter, each with different benefits and rewards.
Benefits include:
Direct access to over 50,000 people at one event
Advertising opportunities
Association with Macnas and the magic it creates
Connecting into your community by supporting Ireland's largest free annual civic arts event in the west Of Ireland the Macnas Halloween parade.
Publicity opportunities via print and online media
Publicity opportunities via Macnas website and social medias
Corporate photo opportunities with Macnas performers
Corporate hospitality
Staff entertainment and involvement opportunities
Staff workshops available
Tax relief
Why not invest in something that invests in you, your company and your staff? For more information, please contact us at Macnas on +353 (91) 561462.
Macnas is a registered charity, which relies on public support and funding to make and create.