The Cockroach and the Inventor
(2012)
A giant Cockroach Inventor and his able troupe of clown scientists and engineers arrive in town conjuring up crazy inventions and molecular muddles, blowing things up, bellowing out sounds and confusing themselves.
Unpredictability hovers in the air along with smoke, silly contraptions and suitcases filled with genius apparatus to tickle, tease and invite audience interaction. Music, mayhem and buffoonery abound as Macnas bring this tale of unlikely inventors to a park, street or laboratory near you.
Directed by Noeline Kavanagh and Miquel Barcelo
Shorelines Festival, Portumna, Co. Galway (2013); Life of Reilly Festival, Cavan (2013); Féile Iorrais, Belmullet, Co. Mayo (2013); Dundrum Festival, Dundrum, Dublin (2013); Body & Soul Festival (2013); Foynes Irish Coffee Festival Foynes, Limerick (2013); Drogheda Arts Festival (2013); St. Patrick's Festival Limerick City (2013); St. Patrick's Festival Cork (2013); Dublin Fringe Festival (2012);
The grand scale puppetry is stunning...
Irish Theatre Magazine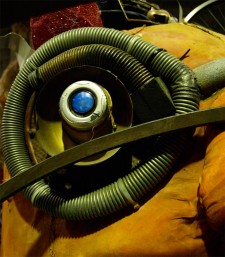 Credit: Róisín Stack: The Cockroach and the Inventor